Outdoor covering systems for use all year round
Since 1958, we have been designing customised coverings for outdoor, residential, and commercial spaces, selecting the most suitable materials and solutions for the climatic conditions in your location. Each covering is made using our patented technologies.
In sun, rain, snow, and wind: enjoy your outdoor space at any time!
Our coverings create a comfortable environment
Integrated air conditioning and lighting, thermal and acoustic insulation, resistance to atmospheric agents, and reduced maintenance: allow us to present our products.
Link to Telescopic enclosures in categorie_prodotto
TELESCOPIC COVERINGS
For the residential and public sector we produce sliding roofs, retractable verandas, and large coverings for commercial use (in hotels, bars, restaurants, and swimming pools). Do you want to make the most of your outdoor spaces all year round?
Link to Custom made pergolas in categorie_prodotto
MADE-TO-MEASURE PERGOLAS
Pergolas are ideal for gardens and terraces. You can choose between free-standing or lean-to models in wood or aluminium, with adjustable louvers. Do you want to provide your guests and customers with a pleasant, sheltered area you can use all year round?
Link to Outdoor side panels in categorie_prodotto
LATERAL ENCLOSURES
Glass and PVC awnings and panels are perfect for creating an environment that is protected from atmospheric pollutants and is thermally insulated, so that it can be used in winter and in summer. Do you want to transform your outdoor space?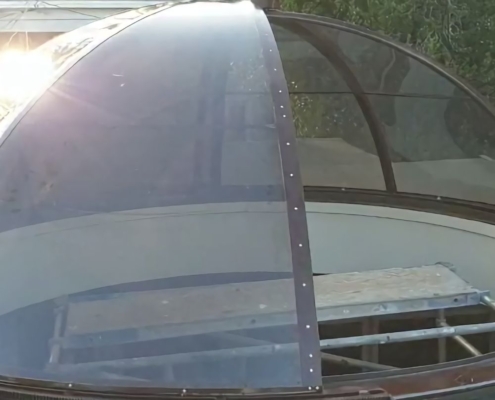 San Francisco, California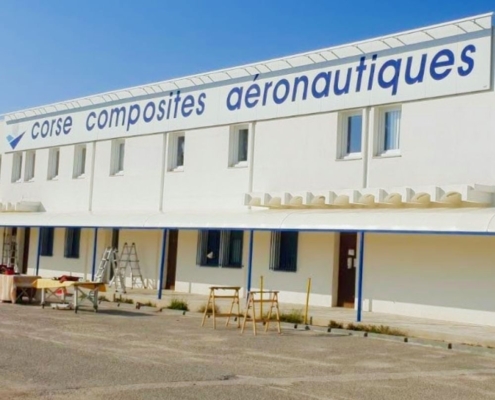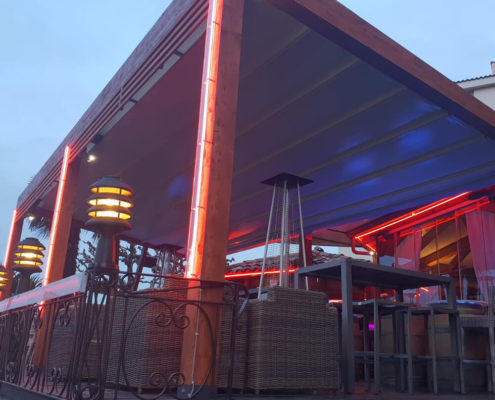 Saint Laurent Var, France
We operate all over the world
Thanks to decades of experience in the sector, with installations all over the world, we know how to satisfy even the most unusual and difficult demands. Our patented products provide excellent and exclusive coverings, suitable for any use.
We provide a wide range of coverings
Do you have problems with the sun, the wind, or the rain? We have the right solution for you. Our experts will help you choose the most suitable coverings for protection against the sun, rain, wind and snow…
We provide made-to-measure products
We not only offer you the highest quality at the right price, but also the ability to customise your projects! Each of our installations is 100% unique, and you can customise any detail: from the material from which it is made to the smallest finishing touches.
We have patent solutions for thermal and acoustic insulation
Our pergolas and roofs comply with all European Community regulations and are produced by our expert staff, using only the highest-quality raw materials.
Our technical support team is always on-hand to help
Our technicians will help you choose the ideal solution for you and will arrange its installation. And there's more… Our support team will be there to help you even after the product has been installed, to guarantee you the highest level of safety.